Introduction
PROT is an order tracking system that was developed for the processing of tour dates. The main task of this software is the data transmission and tracking between the backend and mobile interfaces.
The mobile application provides the user with a reliable tool for processing his tasks as easily as possible. The system provides a user interface that secures a good handling with large icons and a structured layout.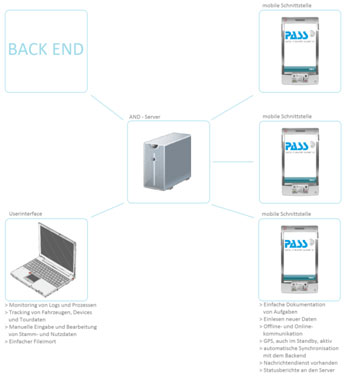 Further working for the user is assured even when there is no connection to the server. The automatic synchronization of data is performed at Connection.
At any time, even in the resting state of the device, the current location is recorded.
There are different degrees of data protection at Mobile.
GPS data is held temporarily. After synchronization with the backend these data will be removed from memory. Tour Date for the entire Drive is stored in Mobile. If the application is closed during a tour then, current status remains intact and the user will continue by refreshed/renewed log-in again in the same place. Master data, such as items and locations are permanently stored in the database.
so holds the application the balance between performance and space utilization and in the workflow required data.
The user will navigate through the application and thus by its overall work process. His current Tasks, the next targets, messages and status reports will be presented understandingly by the software.
The documentation of his processed tasks is arranged/ molded for him as simple as possible.
Also during the drives orders or goals can be changed. The mobile interface lets itself for example to adapt to order quantities, to structure/draw up new orders and to define notifications.
It can send messages via email or as a simple message and different states/conditions are recorded manually.
The application provides the user with a function to view, listen and read phonetically its future tours.
The tracking system includes a user interface that provides the possibility of checking current status of a tour, a vehicle or a device all the time illustrated by maps and status charts to retrieve. Together with the monitoring of processes and Exception logs there exists a monitoring tool for the entire Operation.
Data provided by the backend can be integrated over a file import. Furthermore, exists the possibility of integrating the use of Master data directly into the system and edit it. Attention is paid to consistent data and in the event of unavoidable redundancies this will be made evident. Data can be integrated into the system several times without any complications.
The server is composed of different plug-ins that will communicate with each other through REST services. The architecture is so designed that individual elements can be replaced or supplemented.
PROT provides a safe and easy processing of your data and a comprehensive tracking of the whole system. The software is designed to be flexible and offers many opportunities to adapt to future requirements.
For complete information please reach us at info@3sbc.com